Owen's job around the homestead is security, and he takes it seriously. No trash/mail/delivery truck goes unnoticed and un-barked at. The sound of their jaengines arouse him to race through the house to the front gate, grumblings in his basset-derived chest. But, Owen also keeps the ground squirrels from raiding our green chile patch.
We set aside a small part of the backyard for flowers and a few New Mexico green chile plants. The rest is a place for indigenous flora and fauna of the high Chihuahua Desert to play out the roles prescribed by nature. New Mexico is renowned for its green chiles that the locals use to season stews, and add zest to other recipes.
The chiles from the area around the farm town of Hatch in the Mesilla region on the lower Rio Grande River have trademarked their product.
However, Hispanic farm communities throughout the state claim unique properties to their chiles and preserve the seeds that have been passed down since the Spanish introduced chiles into New Mexico centuries ago. LINK
And not just the Hispanics are aficionados of the chile. A Jemez Pueblo friend gave me a chile that had been passed down in his family since the mid-18th century.
The peppers from those seeds rated 10 (maximum hot) on the chile heat scale. Chefs around the state compete for the blue ribbon at the state fair that is awarded to the best green chile cheeseburger. Owen loves green chile cheesburgers.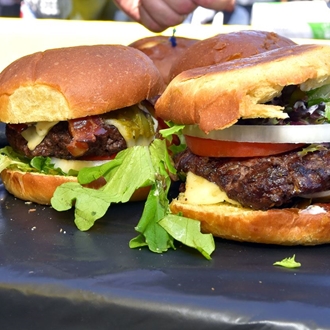 Locals buy their stash of green chiles at supermarrkets, road side stands, and at the farm. In early fall, the air is filled the scent of chiles being roasted in store parking lots and roadside stands.
We harvested a few chiles from the three plants in our garden.
We popped them under the broiler.
Turned them every few minutes, and out they came, ready to be peeled, de-seeded, and ready to be added to home made green chile stew.
Owen finds the chiles uninteresting as a diet item, but the green chile cheeseburgers are a hit with him.